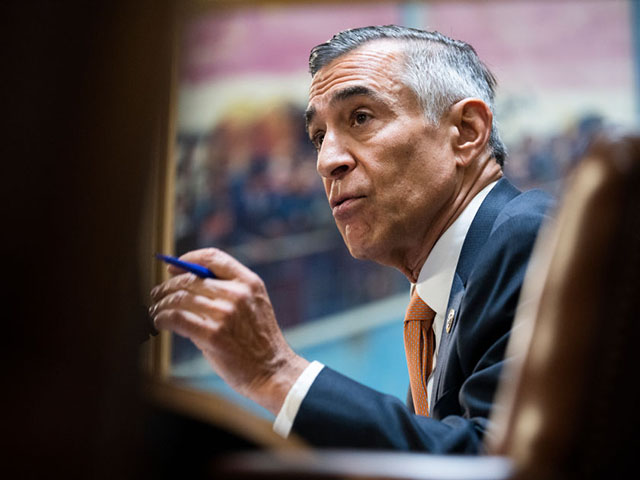 From: Breitbart.Com
By: Ashley Oliver – Follow her on Twitter at @asholiver.
Republicans on the newly created Select Subcommittee on the Weaponization of the Federal Government met for the first time Friday to begin mapping out their investigative pursuits.
The closed-door meeting included all of the subcommittee's GOP members, aside from Rep. Greg Steube (R-FL), who was home recovering from a serious accident, according to a source present at the meeting.
"There's a lot for us to do. That's really clear, and that's just in the course of the discussion we had," Rep. Dan Bishop (R-NC) said as he emerged from the meeting room.
The subcommittee was established via a resolution this month along partisan lines and was given sweeping authority to investigate federal government agencies, such as the Justice Department (DOJ) and FBI, for alleged civil liberties violations.
Rep. Darrell Issa (R-CA) noted to reporters after the meeting, however, that the subcommittee's mandate was "much broader" than those two agencies.
"Obviously Twitter was weaponized, and that's not DOJ only," Issa said.
Judiciary Committee and subcommittee chair Rep. Jim Jordan (R-OH), who met with Twitter CEO Elon Musk this week, has said he plans to delve into the "Twitter files," which, among their many revelations, showed an elaborate coordination between the FBI and the social media platform in the leadup to the 2020 election and beyond.
3. Twitter's contact with the FBI was constant and pervasive, as if it were a subsidiary.

— Matt Taibbi (@mtaibbi) December 16, 2022
Jordan has also been vocal about his intentions to investigate the several whistleblower complaints he has vetted over the past year, including complaints related to DOJ's past handling of tensions at school board meetings, its approach to January 6 investigations, and other concerns about department bias.
While it is unclear if those probes will take place through the Judiciary Committee or the new subcommittee, Issa said after the Republicans' meeting Friday that they had already scheduled "several" transcribed interviews.
"I would imagine that we will be, like most investigation committees, disproportionately doing transcribed interviews and depositions. … It's not about showing to the public," Issa said, emphasizing the word "showing." "It's about real investigation, and then making it public," Issa said.
Jordan told Republicans during the meeting Friday, according to a report from CNN, that the subcommittee also planned to adopt a rule used by former Oversight Committee chair Rep. Elijah Cummings (D-MD) to issue subpoenas without consulting Democrats in advance, signaling the GOP is planning to be aggressive in interviewing and, where necessary, deposing its subjects.
The subcommittee is set to have 21 members, with 12 already-appointed GOP members and nine Democrats, whom Minority Leader Hakeem Jeffries (D-NY) is expected to choose in the coming days.
Democrats, although they appear poised to participate in the subcommittee, voted unanimously against its creation.
Jeffries has ripped the panel as "insurrection protection," while Judiciary Committee ranking member Rep. Jerry Nadler (D-NY) has contended it would demonize law enforcement and also be used to "protect Donald Trump," whose Mar-a-Lago residence was the target of an unprecedented FBI raid last year.
---
Write to Ashley Oliver at aoliver@breitbart.com. Follow her on Twitter at @asholiver.